Valentine's Wood
Tuesday, 14th February 2012 by Alex Turnbull
This is the English county of Wiltshire – legendary home of crop circles, but they don't only cut down the local flora to make pretty shapes here, as shown by this lovely heart-shaped wood.
Overlooking the village of Oare, the small wood wasn't created by aliens (or by people pretending to be aliens), but by Lady Keswick, the owner of Oare House.
In 1999, following the death of her two brothers, Lady Keswick had 1,000 Hawthorn trees planted in their memory. The trees were chosen in two varieties – one with dark pink and one with pale pink flowers – and with the help of an Oxford-based landscape consultants, were planted in a acre-large heart-shaped arrangement.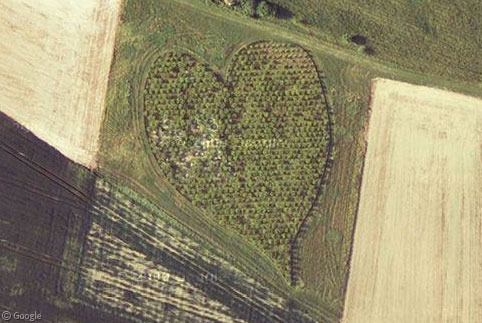 The wood is yet to fully bloom, but when it does, it will light up the hillside in a blaze of pink that will stand as a beautiful tribute to Lady Keswick's brothers.
Via gov.uk and the to the BBC.
P.S. Apologies for this site's extended outage over the past 24 hours, we'll be giving our web host a serious talking to.