Standing But Not Operating: Abandoned Theme Parks
Wednesday, 14th August 2013 by Kyle Kusch
Standing but not operating (SBNO) is the term applied to amusement parks and amusement rides that have been abandoned by their owners but remain structurally intact. Not only are abandoned amusements favourites among the urban exploration crowd, SBNOs also make for great Google Sightseeing!1
Just five years old when Hurricane Katrina flooded it out in 2005, Six Flags New Orleans has now been sitting abandoned for three years longer than the entire amount of time that it operated. Originally called Jazzland when it opened in 2000, the Six Flags theme park chain bought the park in 2002.
With six huge roller coasters and dozens more flat rides, the park was rather impressive, but when Katrina hit, the low-lying park was left standing in 2 metres (7 feet) of salt water for over a month. 80 percent of the buildings were demolished, and all of the flat rides were corroded beyond repair. Of the roller coasters, only Batman: The Ride was considered salvageable; it was packed up and reinstalled at the Six Flags in San Antonio, Texas.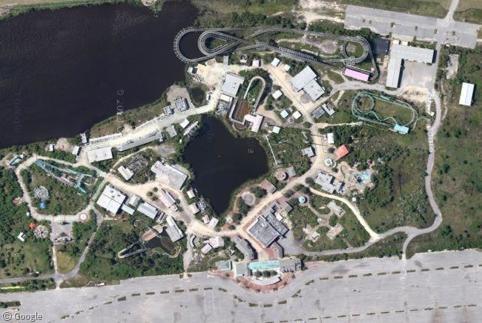 Today, Six Flags New Orleans is a rather spooky place2, overgrown with grasses, weeds, and trees in many spots. Four coasters remain standing in the park, all beyond repair, along with numerous buildings covered with graffiti. Numerous plans to revelop the park have fallen through. 'CLOSED FOR STORM' indeed.
Since then, the abandoned park has become a sought-after location for film shoots, including Percy Jackson: Sea of Monsters, Killer Joe, and Dawn of the Planet of the Apes.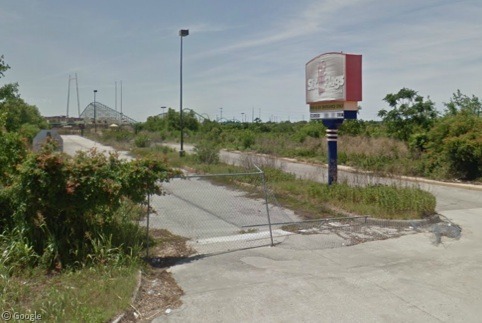 Marshal Scotty's Playland Park was a theme park in El Cajon, California that traded owners numerous times over the years and was at points foreclosed upon, and eventually ended up being called Frasier's Frontier. The park was finally closed in 1998, and while most of the salvageable rides were sold off, the roller coaster, ferris wheel, and bumper cars remain. Only the karting track in the middle of the park remains in operation, having reopened in 2011 (under new operators, of course).
Joyland was an family-run amusement park in Wichita, Kansas that operated over a half-century from 1949 to 2006. Its main attraction was a vintage 1949 wooden roller coaster that wrapped around the parking lot. Sadly, while the park sits in place waiting to be refurbished, it has been subject to rampant looting, vandalism, and even arson, leaving the midway and surrounding buildings in shambles.
If there's a bright side, it's that being located in the Great Plains means Joyland hasn't become completely swallowed by the forest like Katoli's World in Taiwan, which last operated in 1999. Here, the coasters and ferris wheels are slowly being engulfed by trees and vines.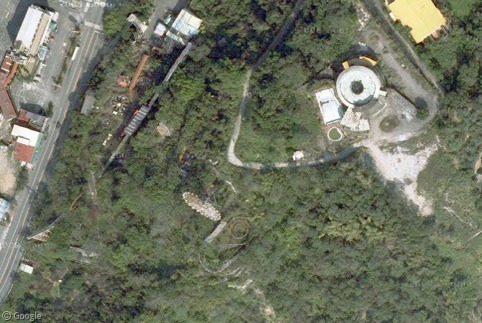 North Carolina's Ghost Town in the Sky was an interesting concept when it was opened in 1961: a Wild West theme park located on a mountaintop that was only accessible to visitors via a 1,030 metre (3,370 foot)-long tramway. Initially extremely popular, the park broke down over the years as the owners could no longer afford to maintain either the rides or the tram. The park closed in 2002, reopened in 2007, and closed again in 2009 before being sold at auction.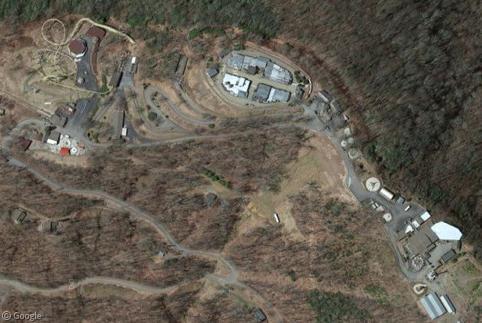 There are also abandoned parks right in the middle of cities. Take Fantasy World, for example, located in the tourist hotbed (cough) of Atyrau, Kazakhstan. From the overhead view, it's hard to believe it's only been closed for four years.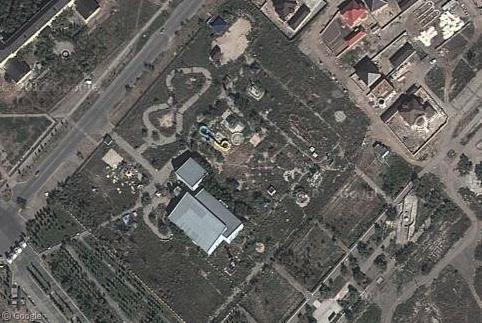 One of the most expensive failures in theme park history was Myrtle Beach, South Carolina's Hard Rock Park; a park based on the Hard Rock Cafe restaurant chain. The park opened in June 2008 with an Eagles/Moody Blues concert3 and featured classic rock-themed rides such as Led Zeppelin (actually designed in part by the surviving band members), Round About (a car-coaster that played Gary Numan's 'Cars' as you rode it), the Magic Mushroom Garden (not joking), and Slippery When Wet (because today's youth demand Bon Jovi-themed roller coasters).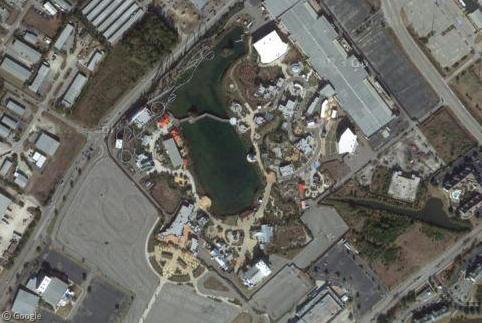 Shockingly, the park went insolvent4 just six months after opening. New owners came in and rebranded it for spring 2009 as Freestyle Music Park, changing the names of the rides from their original classic rock names to new classic rock names (Life is a Highway, Fly Like an Eagle, Get Off My Cloud, etc.) Freestyle Music Park closed at the end of that summer and hasn't reopened.
The king of abandoned amusements, however, has to be Japan's Nara Dreamland. The park was built in 1961 as a direct ripoff of Disneyland, laid out in nearly the exact arrangement with the exact same features. The monorail, the Matterhorn, Sleeping Beauty's Castle, the skyway, Autopia, and even Main Street USA are all there, only built from inferior plastics and featuring numerous mascots ripped off from Disney, Warner Bros., and other cartoons. Immensely popular in its heyday, the 1983 arrival of a true Disneyland in Tokyo killed Dreamland's attendance. By the 2000s, it was only open on weekends and was almost devoid of visitors5, finally giving up the ghost in 2006.