Rollercoaster Round-up!
Thursday, 26th September 2013 by Ian Brown
We visited a number of amusement parks in the early years of Google Sightseeing, but with improved imagery and competition amongst parks leading to the construction of many spectacular new attractions over the past few years, this seems like a great time to look at the world of roller coasters. We'll visit the top few in each category of Wikipedia's rankings – first up, Kingda Ka at Six Flags Great Adventure in New Jersey.
Open since 2005, Kingda Ka tops the steel roller coaster categories for tallest – at 139m (456ft) – and longest drop – at 127m (418ft). It is also the second fastest steel roller coaster, reaching 206 km/h (128 mph) in just 3.5 seconds en route to the 'top hat' tower.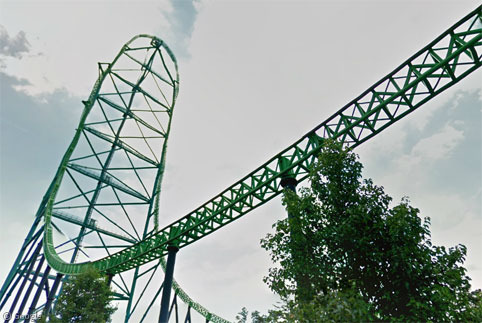 Four separate trains operate out of a twin-tracked station which allows for up to 1,400 riders an hour. After the tower, a second incline provides another brief moment of weightlessness before returning to the station (video: on-ride, off-ride). Occasionally the train doesn't muster enough momentum to make it all the way over, which results in a 'rollback', as shown in this video.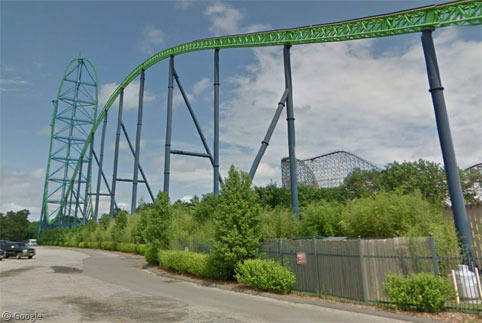 Previously a record holder in each category, the steel coaster which is now second in the tallest and longest drop categories, and third-fastest, is Top Thrill Dragster, at Cedar Point in Ohio. Kingda Ka uses essentially the same design but was built 9m (26ft) taller to claim the records. Top Thrill Dragster – built in 2003 – also lacks the secondary incline.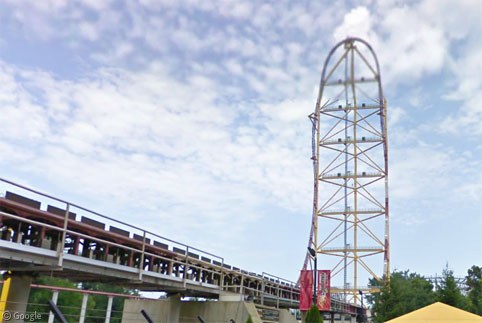 Street View went through the park when it was in operation, so we can see people (some of them looking quite nervous!) on the train after it has left the station, at the point where it waits to be launched! (Video: on-ride).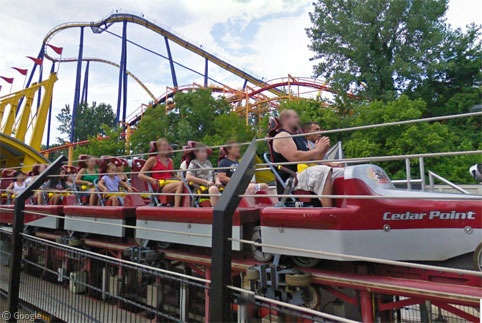 Before 2003, the record holder was Superman: Escape from Krypton, a 126m (415ft) tower at Six Flags Magic Mountain in California, which is now the third tallest and tied for third longest drop and fifth fastest. It is a shuttle coaster – the train leaves the station (with riders facing backwards) then goes up the tower and back down, rather than doing a full circuit. (Video: on-ride).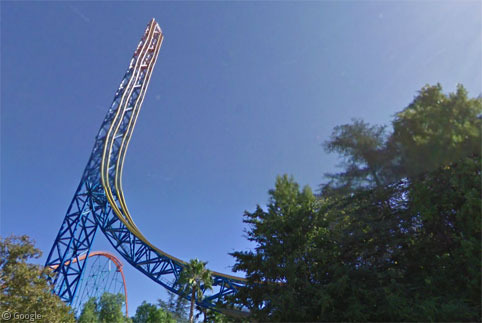 Moving to wooden roller coasters, where unfortunately we don't have great imagery of the first two. Unlike traditional wooden coasters which were built using planks nailed together (making for a somewhat rickety experience), modern wooden coasters are factory-built piece-by-piece to exact specifications, allowing for quick on-site assembly and a smooth ride. The tallest is the 60m (197ft) tall Colossos at Heide Park in Germany. (Video: on-ride, off-ride).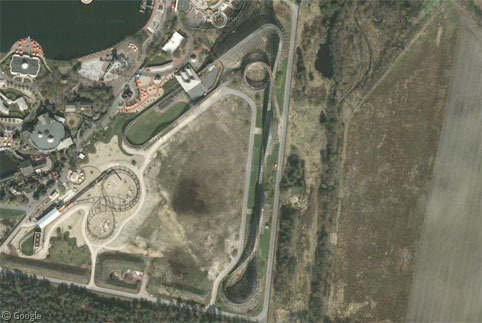 The second-tallest wooden coaster is the T Express at Everland in South Korea, and this Bing image is our best view of the 56m (184ft) structure. For a while this ride had the steepest drop of any wooden coaster, at 77°. (Video: on- and off-ride).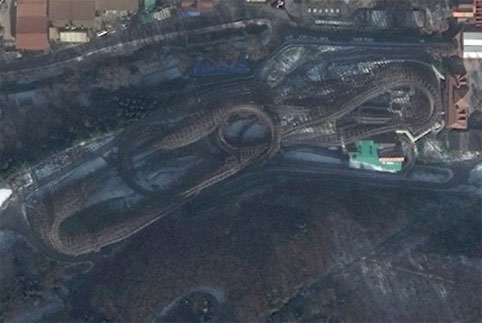 Back to Six Flags Great Adventure, where we find El Toro, the third-tallest, which holds the record for the longest drop of any wooden coaster, though it is 1m shorter and 1° less steep than T Express. (Video: on-ride).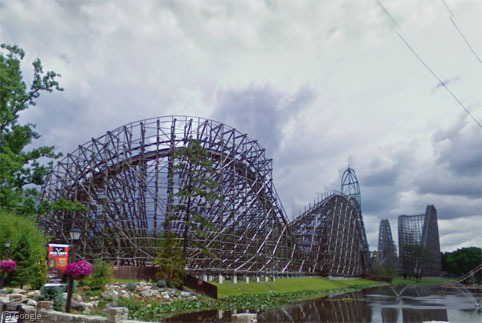 Looking now at speed… the fastest steel roller coaster is Formula Rossa at Ferrari World in United Arab Emirates, where riders are propelled to 240 km/h (150 mph) in five seconds, though that speed is only sustained for a short portion of the track, which supposedly emulates sections of some of the world's most famous F1 race tracks. (Video: on-ride).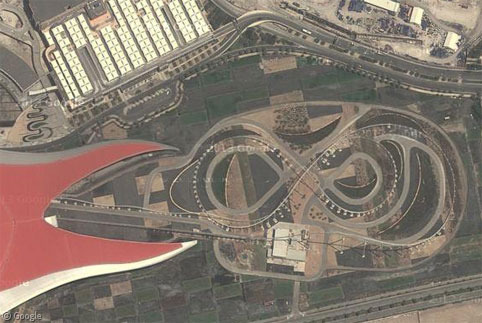 As mentioned, Kingda Ka and Top Thrill Dragster are the second and third fastest steel coasters, while El Toro and Colossos are the top two fastest wooden coasters.
Moving to a different category – rides which cover the longest distance. The longest steel roller coaster is Steel Dragon 2000 at Nagashima Spa Land in Japan, which travels almost 2.5 km (over 1.5 miles) in a ride lasting about 4 minutes. This ride was the tallest in the world until Top Thrill Dragster was built. (Video: on-ride).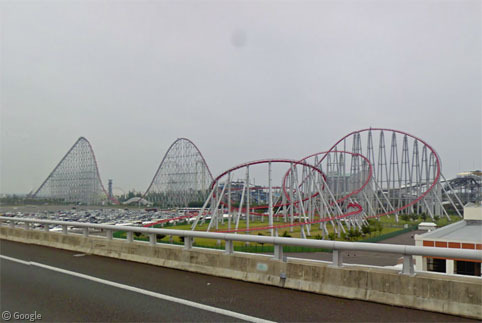 The second-longest steel coaster is The Ultimate at Lightwater Valley in England. Its 2.3 km (1.4 mile) track takes over 7 minutes to travel, so it is rather sedate compared to many of the other rides we've looked at. There are two lift hills and drops, but much of the ride is over flat or gentle hills or turns. Video: on-ride.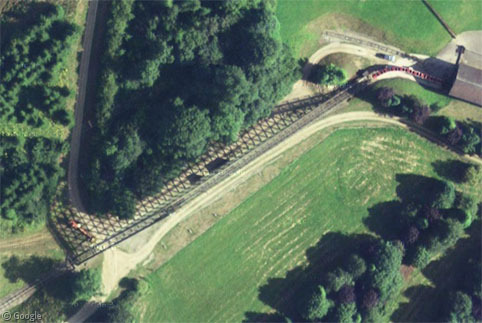 The longest wooden roller coaster is The Beast at Kings Island in Ohio, another 4 minute ride stretching 2.2 km (1.3 miles). Currently operating in its 35th year, The Beast was followed by another ride at the same park, called Son of Beast, but it was dismantled following a couple of accidents. (Video: on-ride).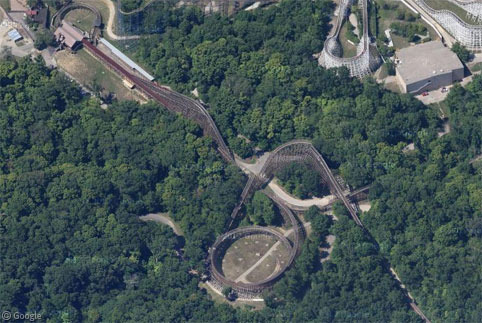 The second-longest wooden coaster is the 1.9 km (1.2 mile) The Voyage, at Holiday World in Santa Claus, Indiana1. It claims the most 'air-time' of any wooden coaster. (Video: on-ride).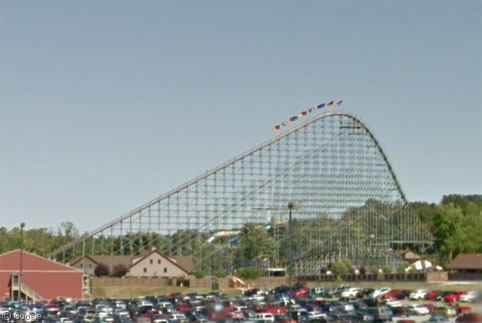 Some of the fiercest competition over the past few years has been in the category of steepest steel roller coaster, with dozens of rides now boasting sections beyond vertical. Unfortunately, even though they have been open for a couple of years the top two are not shown on any map imagery that I can find. The current steepest – with a maximum angle of 121° – is Takabisha at Fuji-Q Highland in Japan. Here's a video showing the vertical climb followed by a nerve-testing pause before the drop: on-ride and off-ride. The second steepest – just half a degree less – is Green Lantern at Warner Bros Movie World in Australia. (Video: on-ride).
We can, however, see the 113° section of Timber Drop at Fraispertuis City in France, including this close-up of people at the very steepest part of the ride! (Video: on-ride).
The steepest wooden roller coaster – at 81° – is Outlaw Run at Silver Dollar City in Missouri. This coaster is also the third-fastest wooden coaster and has the second-longest drop of any wooden coaster. Although it's not actually very tall, it uses the natural hillside of the site to extend the drop. (Video: on-ride).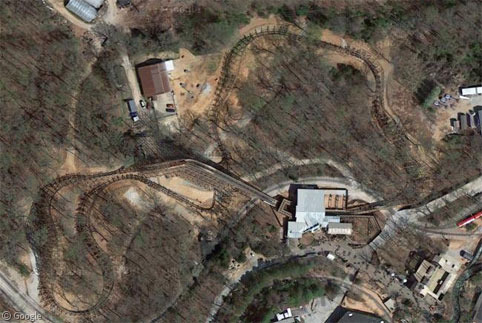 Moving onto our final category – inversions – Outlaw Run is also the only wooden coaster with multiple barrel rolls.
For inversions on steel coasters, a brand new ride called The Smiler at Alton Towers in England has an astonishing 14 rolls, though as it just opened it can't yet been seen on any imagery. (Video: on-ride). A coaster in China claims 11 inversions, but there isn't much information about it that I've been able to find.
There are multiple rides with 10 inversions, including Colossus at Thorpe Park, which has one of its rolls directly over a footpath!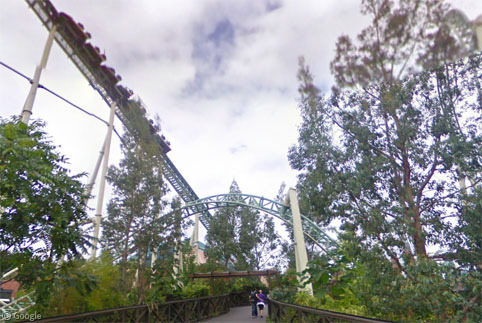 If you have a favourite roller coaster, please post in the comments, with a map link and video if you can find one!
---
Which we've visited in a couple of our Christmas posts over the past few years. ↩