Sunbathing
Wednesday, 13th July 2005 by Alex Turnbull
Here at Google Sightseeing HQ in Edinburgh, we've been having a mini heat-wave of late, which got us in the mood for sunbathing 😀
Here's some people, lots of people in fact, sunbathing on a beach in Barcelona. Not enough people? Here you go: even more people on another Barcelona beach.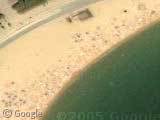 Perhaps you prefer your sunbathing a little more au naturel? Try Wreck beach, a nudist sunbathing spot in Vancouver, Canada (careful you don't strain your eyes at those pixels too much!)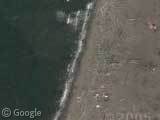 Not enough sunbathing opportunities for you? How about Rimini beach in Italy? The link goes to the top of the high-resolution bit, scroll south to see the tens of thousands of parasols and sun loungers! It literally goes on for miles and miles.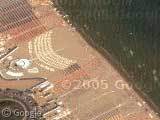 Thanks to Q, davide, Personne and woowoowoo.