Aruba Revisted Pt. 2
Friday, 17th March 2006 by James Turnbull
This post is a continuation of Aruba Revisted Pt. 1 which was posted earlier today.
During our honeymoon we stayed at the Tara Beach Suites in Buciti Beach resort, which is situated on the exquisite Eagle Beach. I can almost make out the shape of the "Pirate's Nest", Bucuti's pirate ship restaurant, but you can usually see the mast of the restaurant on Bucuti's Live Webcam. You can also see the warm golden sand and that crystal clear blue sea…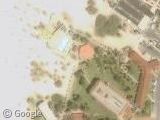 A sight we didn't manage to see is the California Lighthouse at the Northern tip of the island. Apparently the lighthouse is pretty run down these days.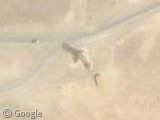 There are a few examples of Natural bridges, where the sea erodes the limestone rock to create an arch over the water, around Aruba. The largest of these, in fact the largest example in the whole Caribbean, was referred to as the Natural Bridge but sadly collapsed at the beginning of September last year (just a few weeks before we arrived!).
The satellite photo is out of date so you can see the bridge as it once stood. There is a smaller natural bridge just to the north, which is still quite impressive.