Gulliver Park
Tuesday, 23rd May 2006 by Alex Turnbull
This is Gulliver Park in Valencia, Spain. The figure you see is an enormous fibreglass model of Lemuel Gulliver trapped by the Lilliputians, and the ropes that tie him to the ground form part of a children's adventure playground. Children can slide down his jacket, climb up the ropes on his arms, visit the city of Liliput inside him, and do a number of other activities spread out all over the figure.
Sounds quite gross actually.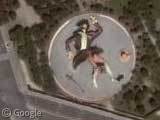 Thanks to BADI, Javier, Francisco Gioielli, Rober, brigate, JohnnyBoy9, Veli Matti Pelttari, cremaor, Trompie, Michael Zacherl, Pablo, andysamp, Ximet, Andros and Martin.