The World's Largest Plasma TV
Monday, 29th January 2007 by James Turnbull
Google Earth satellite images have unearthed Samsung's top secret development of the World's largest Plasma Television.
After Japanese manufacturer Matsushita topped the South Korean electronics company's 102″ plasma with a 103″ model Samsung moved developments to the African country of Algeria where Matsushita's spies wouldn't know what they were up to.
Rather than risking another embarrassment Samsung have gone all out and developed a 4,975″ Plasma screen. However, this may have been a mistake – the TV is so big that it keeps falling onto its back.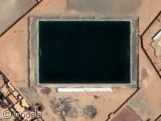 Also see previous oversized electronics on Google Sightseeing.
Thanks: SpiderX22