Keeping Up With The Joneses Part 4
Tuesday, 27th March 2007 by James Turnbull
Welcome to the fourth in our irregular series "Keeping Up With The Joneses", where we feature communities around the globe who are trying to to get one-up on their neighbours.
The requirement for social acceptance in this South Texan town is not (as in previous episodes) Tennis courts, Aircraft or Trampolines but instead your own personal pier.
Luckily for those who want to live in the area, but can't afford their own sailboat, it would appear that having something to park at your personal pier is not a requirement; of all the 45 piers in the neighbourhood nobody's moored so much as a rowboat!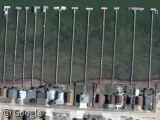 Thanks: John