Keeping Up With The Joneses Part 3
Monday, 22nd January 2007 by Alex Turnbull
Welcome to the third in a series that has seen competitive homeowners across the globe vying to emulate the affluence of their immediate neighbours - Keeping up with the Joneses Part 3! (Also see part 1 and part 2)
This time we're in Edinburgh, Scotland, where the residents of Corstorphine appear to have been put under some considerable pressure to become the proud owners of their very own trampoline.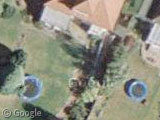 I actually couldn't believe how many of these things there are - here's one, and another, and another, and another! In fact the list goes on and on and on and on and on and on! I'd particularly like a shot on one of these ones, just to see if - by leaping from a nearby roof - you could make it all the way to one of next-door's trampolines... 😀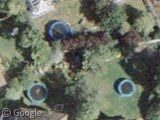 While we're on the subject, Wilfred van Breda sent us this link to a barge in Rotterdam harbour, which he claims is owned by a friend and actually has a trampoline on board. Hmmm.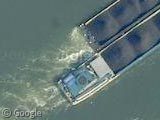 The same vessel actually appears elsewhere in the harbour too. Unless of course, this type of craft comes standard with a trampoline...
Thanks to Wilfred van Breda.