Plane Shaped Pools
Thursday, 26th April 2007 by Alex Turnbull
It seems that more than one person has had the idea of theming their swimming pool around aeroplanes...
Here's a small private plane-shaped pool in Miami.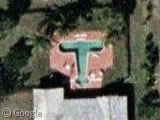 This is the Flying W Airport in New Jersey, where they have a cool plane-shaped pool with "W"s on the wings. Flying W is described as a "flying airport resort", and whilst I'm not sure exactly what that is, there's definitely real planes parked right next to the pool. Very odd.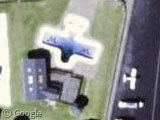 Over in Cairo, Egypt, they've taken a quite different approach and illustrated a fighter jet on the bottom of this circular pool, which also features a very large bird of prey. Do these insignia hold some sort of significance I wonder?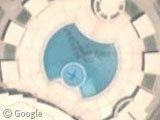 Finally, in China, they've dispensed with swimming pools, a built an entire lake in the shape of a plane! This is right next to a decent sized airport, so maybe this is a hotel.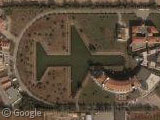 Whilst swimming here might not be very pleasant, if you look closely you'll see that instead, you might be able to take a boat trip in this plane!