Street View Italia!
Thursday, 30th October 2008 by James Turnbull
Hot on the heels of Street View in Spain earlier this week comes Street View in Italy1, covering Milan, Florence, Rome and Lake Como.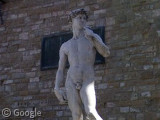 This is a copy of Michelangelo's David standing at his original location in front of the Palazzo Vecchio, Florence.
Make sure to tell us what you find, or if you prefer your Italy Sightseeing in Italian, head over to Google Sightseeing Italiano.
Thanks to Google Maps Mania
---
Yesterday I posted about the street view cars to our Rotacoo blog, and correctly predicted that Italy would be next on the list. Could UK street view be imminent? ↩︎