Hạ Long Bay, Vietnam
Monday, 11th May 2009 by Kevin Batdorf
In the north of Vietnam, a few hours east of the capitol, Hanoi, lies a beautiful area known as Hạ Long Bay. Hạ Long, which can be directly translated as "Bay of Descending Dragons", comprises just under 2000 islands, only half of which have been named.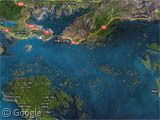 Other than the truly spectacular scenery which features some absolutely amazing caves, some of the most impressive sights in Hạ Long Bay are the local communities. With a population around the same as the number of inhabitable islands, many of the locals live on floating villages, and some of these small communities are like little towns - complete with banks and schools. Most of their income comes from local fishermen, but tourism also plays a part.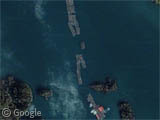 The bay gets its name from an ancient legend which tells of how, during a Chinese invasion, the Jade Emperor sent a mother dragon and her children to aid the Vietnamese and prevent them from facing defeat. The dragons shot from their mouths around 2000 stones which immediately transformed into the jade islands seen today.
The dragon's defenses supposedly blocked the Chinese ships and gave the Vietnamese the leverage needed to gain victory.
For more info check out the Hạ Long Bay official website, or the Hạ Long Bay Wikipedia page.