Calatrava's Buildings
Wednesday, 11th November 2009 by Ian Brown
Continuing our exploration of the work of Santiago Calatrava, we visit some of his more notable buildings, beginning with an in-depth look at the magnificent Ciutat de les Arts i les Ciències – the City of Arts and Sciences in his home town of Valencia.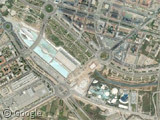 With construction ongoing since 1996, the complex consists of five main areas, of which one (L'Oceanogràfic aquarium) was designed by a different architect.
The Palau de les Arts Reina Sofia contains 4 performance halls for music, theatre and opera in a building that many would consider designed for inter-galactic travel.
Resembling an immense eye to represent visual arts, L'Hemisfèric houses an IMAX theatre, planetarium and Laserium.
Rising behind is the skeletal form of El Museu de les Ciències Príncipe Felipe, a hands-on science museum.
Bordering the decorative pools is L'Umbracle, a landscaped park and sculpture gallery under a network of white arches.
Calatrava's contributions also include a bridge and central plaza, both of which are currently under construction. However, apartment buildings that were supposed to have been developed in the area have been put on hold for financial reasons.
The forms seen above are reflected in two important buildings on the Atlantic island of Tenerife. The Auditorio de Tenerife on the waterfront of Santa Cruz features a 1600-seat main hall with a pipe organ and a smaller chamber hall, all contained within one of the most amazingly-shaped buildings ever seen.
Also in Santa Cruz, the Tenerife International Centre for Trade Fairs and Congresses features 40,000 square metres of exhibition and meeting space. Thanks to this week's Street View update, we can also now see it from ground-level.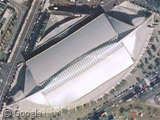 Another waterfront building can be found by Lake Michigan in the form of the Milwaukee Art Museum which was the first of Calatrava's projects to be completed in the US. The museum's main feature is a movable sunshade which can retract in poor weather and at night; it also has a signature cable-stayed bridge.
As with his bridges, not all of Calatrava's buildings have been popular. The visually stunning Gare do Oriente train station in Lisbon has been criticised for cutting off the city centre from the river, and for not protecting waiting passengers from the elements.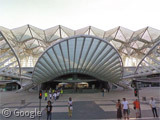 Thanks to the many people who suggested the CAC … paco, Eduardo R. de Lima, Stolz, Arrianus, Carlos Urena, javier, Simone, antonio waller, Sebas Font, Trompie, Michael Zacherl, Pablo, andysamp, Ximet, Andros and Martin.