Street View Singapore
Wednesday, 2nd December 2009 by Chris Hannigan
The island city-state of Singapore has become the first city in Southeast Asia to be photographed and added to Google's ever-growing street view database. The camera car passed through earlier this year and snapped some stunning shots of Singapore's most famous landmarks. Attractions like the Raffles Hotel and the Esplanade shine on what appears to be an absolutely beautiful day in the microstate.
The Merlion statue at Merlion Park is visible off the waterfront at Marina Bay. The half lion, half fish creature is considered by many to be the mythical symbol of Singapore. Or, if you would rather see real animals, perhaps a trip to the world-famous Singapore Zoo is in order?
Google's recent imagery also shows us the brand new Formula 1 facility used to stage the Singapore Grand Prix. When it started in 2008 the event was the first ever night race in Formula 1 history1, using closed city streets and 1,600 flood lamps to create a race track that snakes past many of Singapore's most beautiful attractions.
We actually found one frame from the street view car near the Esplanade that was taken on a different day showing the streets in preparation for the race. You can see the temporary walls, fencing, and flood lamps all in place awaiting the arrival of screaming race cars.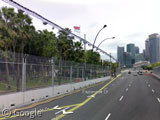 Take a look around and let us know what you see!
---
The decision was made to run at night so that the large European television audience could watch the race live in a more desirable time slot. ↩