Street View Ireland: 4 weeks later
Wednesday, 27th October 2010 by Noel Ballantyne
Four weeks ago, Google launched their Street View service in the Republic of Ireland. Google had been capturing pictures1 of Irish cities, towns and countryside over the previous year.
So where were you the day the circus came to town? Here's a small collection of Irish highlights that we haven't already posted.
It's well known that Ireland is an ancient place, so old that they still have dinosaurs alive and well outside Coolaney, Co. Sligo, and a dragon in Goatstown, Dublin. So far there haven't been any confirmed sightings of leprechauns, but they're still an important part of the heritage.
Ireland is known for its changeable weather, so all credit is due to the Street View drivers for going out driving in the snow, freezing fog, and presumably the rain too, judging by the protective covering over the camera in certain places (although to be fair it was mostly sunny).
The drivers covered up to 80,000km from Mizen head in the south to the most northerly point, Malin head.
Ireland is also known for its poets, actors and musicians.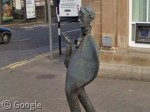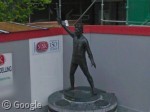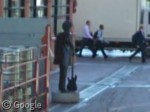 WB Yeats, Richard Harris, and Phil Lynott
Ireland is sometimes seen by the outside world as a little backward, and there are also a few oddities around like concrete boats, and what looks like an intact dinosaur ribcage.
As many of you may know Ireland's Celtic Tiger is gone and but its physical embodiment has been spotted on the loose in Dublin.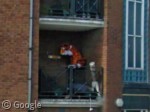 The same day of the launch of Street View in Ireland, the other headline news was about the state of the Irish banking system. Here are some examples of the many ghost housing estates, hotel developments and even unfinished bank buildings that now blight the country.
Not all is doom and gloom however - young folks still find time for some on-camera romance.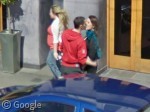 It's great to finally have Ireland represented on Street View, but if Google were going to bother driving most of the county's roads in cars equipped with GPS, perhaps they should have updated the roads layer at the same time?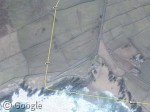 More accurate maps might have helped avoid situations like this one - try moving forwards or backwards on this street…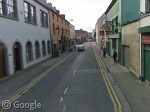 If Google do come back to fix some of the issues, maybe the lads of Ireland will get to show off their arses some more!