Romania's Black Sea Coast
Thursday, 13th January 2011 by Kyle Kusch
With Google's recent expansion of Street View into Romania, we now have street-level imagery of the Black Sea Coast for the first time. Known as the Romanian Riviera, the Black Sea Coast is littered with popular beaches and resorts, and also serves as Romania's shipping link to the rest of the world.
We begin in Constanţa, Romania's second largest city. With a history dating back 2,700 years, Constanţa is renowned for its many historic buildings, such as the amazing waterfront casino.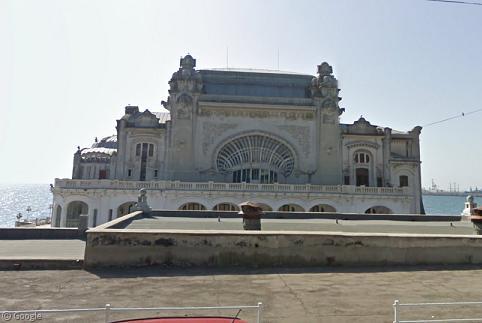 Further downtown is the imposing Museum of National History: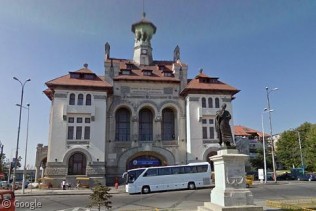 Of course, many of Romania's buildings were constructed under communist rule. This means large apartment blocks can be found in most cities, including this oddly-curved mammoth at one of Constanţa's main intersections.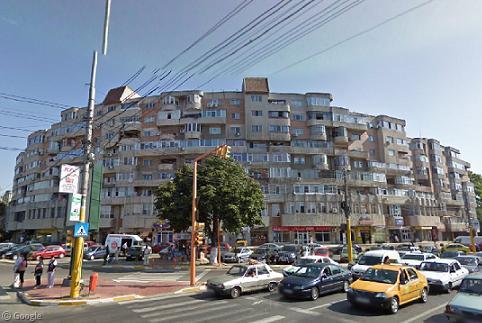 Not only is Constanţa Romania's second-largest city, it's also home to the largest port on the entire Black Sea; the fourth largest in Europe.
Much of the shipping traffic comes through the lock at Agigea, of which Street View brings us a clear view.
The major attractions along this part of the Black Sea however, are the numerous beaches that are flooded with tourists each summer, which is when the Street View camera drove through the resort of Eforie.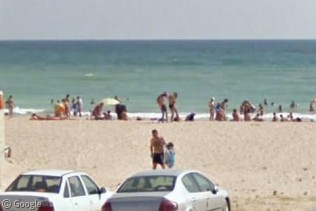 In many places, camping on a public beach would be considered an illegal act, but in the southern resort town of 2 Mai, it's quite the opposite: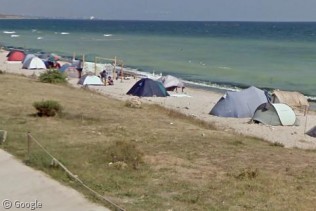 Unfortunately, not all the shots of the beach are quite that scenic...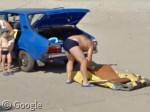 In total, Street View coverage stretches over the southernmost 70 kilometres of the coast, starting from the Bulgarian border at Varna Veche (note the separate lanes at the crossing for EU and non-EU traffic), and ending at a city whose name I can't quite remember at the moment...
Ah, yes. That was it.