Hot Tub Monkeys
Friday, 15th June 2012 by Alex Turnbull
It was only last week that Google announced their new "Trekker" Street View camera that would them to record images in places that were inaccessible even to the Street View Trike or the Street View Trolley – but only a week later and we can now meet the Japanese macaques of Jigokudani Monkey Park – face to face.
If you're not familiar with the macaques of Jigokudani, then let us be the first to confirm that, yes, those are real monkeys. Wild monkeys in fact, who just happen to spend large periods of time relaxing in the warm waters of the naturally occurring hot springs of the valley of the Yokoyu-River.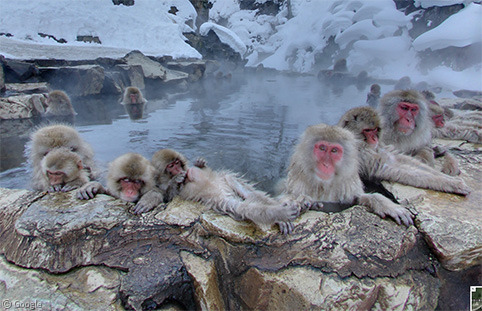 Jigokudani means "Hell's Valley", but it provides a safe haven for the monkey during the long harsh winters1, so it's no surprise that they've been returning to these springs every year since 1963! The park is snow bound for four months of each year, and can only be reached via a 2km footpath through the forest – so it's an absolutely perfect place for Google to put their newly-portable Street View camera to the test.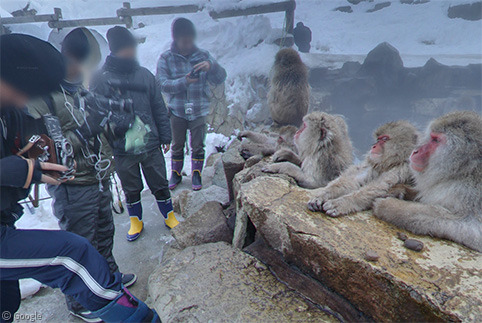 Depending on when you read this, you may be able to see the monkeys as they are right now on this livecam of the spring, but Street View now gives us the opportunity to explore this remarkable location with a level of immersion that not even the best webcams can achieve.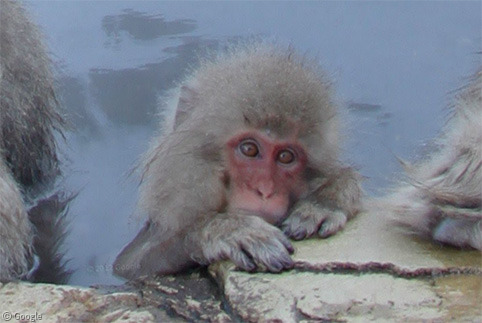 We can't wait to see where else Google have taken the Trekker camera. Can you find any other new imagery?
Thanks to Keir Clarke for the tip!
---
No primate (other than ourselves) is known to live in a colder climate than the Japanese macaque. ↩