Crikey, it's Stingray City!
Tuesday, 5th September 2006 by Alex Turnbull
We feel sure that the undoubtedly great, and now very sadly late Steve Irwin wouldn't blame the stingray that brought about his untimely demise for a single second. In fact we reckon that Steve probably wouldn't want these normally very passive creatures getting a bad reputation, as he was one of only a handful of people who have ever been recorded as being killed by one.
So in Steve's honour, we'd like to welcome you to the Cayman Islands very own Stingray City, a series of shallow sand bars where stingrays are found in abundance and visitors can feed, pet, and swim with these incredible creatures. Around each of those boats, you can clearly see the dark shapes of their bodies as the rays congregate to be fed by tourists.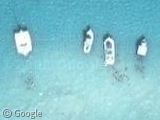 This post is dedicated to Steve, his wife Terri, and their young family.
More on Steve Irwin, Stingray City, the Cayman Islands and of course Stingrays, at Wikipedia.