The Namib Desert (Desert Week)
Monday, 16th June 2008 by Alex Turnbull
Welcome to the first annual GSS Desert Week! In time-honoured tradition, we'll mostly be posting about deserts. For about a week!
The Namib Desert in Namibia and Angola forms part of the Namib-Naukluft National Park, and covers an area of 50,000 km². This part of the world has experienced arid conditions for at least 55 million years, which makes the Namib Desert the oldest desert in the world.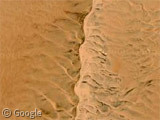 The Namib covers much of the Atlantic Ocean coast of Namibia, where the collision of the water-laden sea air and the bone-dry desert air causes immense fogs and strong currents, making this place as notorious for ending the lives of sailors as the more famous Skeleton Coast to the north. There are plenty of shipwrecks to be found in this imagery for those that care to find them!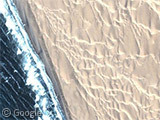 Away from the coast, this massive desert receives less than 10 mm of rain annually and is almost completely barren, apart from the spectacularly complex dune patterns.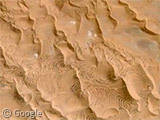 In the eastern part of the desert we find the famous Sossusvlei salt pan, which can sometimes be seen filled with water when a flash-flood fills the Tsauchab river. Note the tourist buses parked in the shade of a tree.
To the south is the Dead Vlei salt pan where even from up here we can spot the "skeletons" of trees which are believed to be about 900 years old - scorched black by the sun and unable to decompose due to lack of moisture.
Perhaps most impressive of all the sights here though, are the mammoth dunes which surround the salt pans. Some of them rise up to 340 metres, which makes them the highest sand dunes in the world.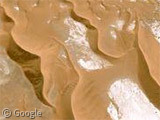 Check out the photos on Flickr of giant dunes, tree skeletons, and the dunes as seen from in the Dead Vlei.
See Wikipedia for more info on the Namib Desert, the Namib-Naukluft National Park, the Tsauchab, Sossusvlei and the Dead Vlei.