National Assembly Building, Bangladesh
Tuesday, 30th September 2008 by Ian Brown
Officially known as the Jatiya Shangshad Bhaban, the National Assembly Building (Wikipedia) in Dhaka, Bangladesh is one of the world's largest and most unique seats of Government.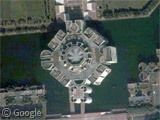 The building and 200 acres of surrounding grounds were designed by noted architect Louis Kahn. At first glance the bare concrete walls and giant geometric shapes, along with the massive staircases leading to the main building, can cause it to appear quite imposing, but extended viewings reveal the beauty and impressiveness of the design. Some good images appear on Wikimedia.
Construction started in 1961 with the building intended to serve both East and West Pakistan. One liberation war and a couple of decades passed before the complex was completed in 1982 to house the government of the still relatively young country of Bangladesh.
The central part of the building is 47 metres tall and contains the main Parliament Chamber, while the surrounding 8 wings are 33 metres tall and include offices, meeting rooms, store rooms and all the other necessities of officialdom.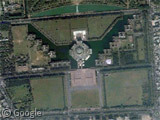 Surrounded by lush grounds, lakes and smaller buildings containing offices and residences for MPs, the whole area appears to be an oasis of calm in an otherwise very crowded and bustling city. However, despite being surrounded by a very low fence, and Wikipedia's comment that the complex is open to visitors and 'popular with joggers and skaters', when I visited in early 2008 the grounds were utterly deserted. Tight security surrounding the military government means the whole area is off-limits to the estimated 20 million residents of Dhaka.
To the north, past the crescent lake lies the mausoleum of Ziaur Rahman, a revered President of Bangladesh who was assassinated in 1981.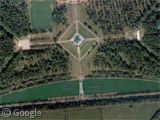 Read more about architect Louis Kahn and former president Ziaur Rahman at Wikipedia.
Thanks to James.